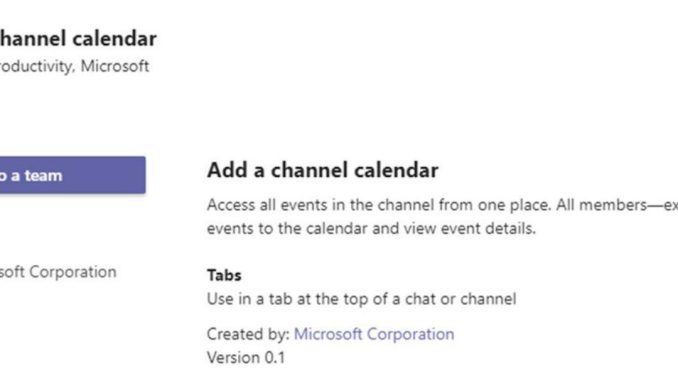 Microsoft Teams as a collaboration platform offers the companies optimal space to create a collaboration groups – teams, and they are containing team members: users which work on a common projects. When users work on a project, they often need a space where they can track their milestones, meetings, events and maybe some deadlines which are connected to their project(s).
When we create a team, a new Office 365 groups is created automatically in the background, which contains all the users added to the team. Also, SharePoint Online team site is created, which will contain all the documents shared in the team. In the same time, for this group there is automatically created Exchange Online group (you can see it in your Outlook app, under Groups section). Every group contains group connected Exchange calendar. Here the team members can check and follow their shared calendar in Microsoft Teams.
But, to make the thing for the users much easier, Microsoft integrated an app in Teams, which is called Channel calendar App.
Add a shared calendar in a channel
The users can add this app into the Channel of a Team, by clicking on the + button next to the Posts and Files. Then, search in the Teams App Store to find the Channel calendar app, as shown on the picture here:
Click on the icon, and then a new window will pop-up enabling you to add the channel calendar to the team:

Any team member can create calendar events or meetings in the channel calendar, and it will automatically show up for other team members.
It is important to mention that Microsoft Teams Channel calendar is available to all team members, except for the guest users. The users outside of the team, as well as guest users cannot see the shared calendar in Microsoft Teams, but they can be manually invited to any calendar event or a meeting.